Fisher Center

About/History
Syracuse University's Academic Home in NYC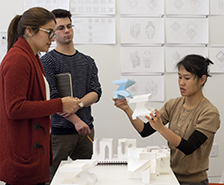 The Fisher Center is SU's consolidated academic campus in New York City—a state-of-the-art teaching facility that supports SU's goal of providing every student a chance to study in one of the world's greatest, most dynamic metropolitan areas.
Located at Madison Avenue and 31st Street, the Fisher Center:
Is home to a number of immersion programs—including the Tepper Semester, Syracuse Architecture NYC, and Newhouse in NYC.
Offers 20,000 square feet of purpose-built space, including several "smart" classrooms, a 66-seat lecture hall, and architecture and drama studios. View the photo gallery and download the Fisher Center floorplan [PDF].
Provides both our NYC faculty and visiting faculty with the same capabilities and technology our instructors have on campus. 
Hosts events throughout the year for alumni and current and prospective students.
Tour the Fisher Center from Syracuse University News on Vimeo.
Fueling SU's Growth
Not only is the Fisher Center perfectly located to enhance SU's existing NYC programs, it's fueling SU's growth in the city, enabling us to expand our offerings in all of SU's schools and colleges, including classes and programs in theater, architecture, business, communications, the arts, fashion, the humanities, and more.
Syracuse University faculty and staff who wish to reserve space at the Fisher Center should contact David Major, Director of Facility Operations, at 917.722.1153 or dsmajor@syr.edu.
Faculty/Staff Rentals and Accomodations
With Syracuse University's commitment to the New York City area, it's not uncommon to see visiting professors or staff in the area! Both Lubin House and Fisher Center provide office spaces and rooms for faculty and staff to conduct business or host events while in the area.